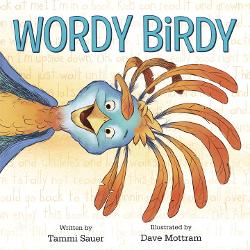 Wordy Birdy  by Tammi Sauer, illustrated by Dave Mottram, 2018
It was not surprising to me that my chatter box of a two-year-old felt an instant connection with Wordy Birdy. The verbose bird loves to babble on about her likes, dislikes, surroundings, and just about anything. Wordy Birdy talks so much in fact, that it is difficult for her to listen to others. This becomes a problem when she wanders into the yard of a bear and does not hear the warnings from the other woodland animals. Luckily, they are able to pull her to safety teaching her a valuable lesson that while it is fun to talk, it is also important to listen.
My daughter absolutely loved this book and asked for repeated readings daily. She particularly enjoyed the interactive element asking readers, "Does Wordy Birdy listen?" and the comical things Wordy Birdy would ramble on about. Wordy Birdy's energy in infectious making this a fun read aloud or an amusing book to share one-on-one.