One of the reasons I love children's nonfiction books, is because I learn so many new things! My children and I have particularly loved learning about incredible women who have made impressive achievements through hard work and dedication. Below are a few of our favorite picture book biographies that highlight awe-inspiring women from history. I applaud the authors and illustrators who have brought these lesser known heroines to light, so that future generations will know and celebrate them.
*This post contains affiliate links. To read my full disclosure CLICK HERE.
Shaking Things Up
by Susan Hood, 2018
Oh, the artwork! Oh, the poetry! Oh, the inspirational stories! This book is simply outstanding! Poems using a variety of formats accompanied by gorgeous illustrations highlight fourteen incredible women. Children may be familiar with a few such as Ruby Bridges and Malala Yousafzai, but the majority of these women ranging in age, ethnicity, and accomplishments will be new to them.
Children and adults will be amazed by the impressive accomplishments of each woman including Angela Zhang who started working on cancer research at the age of seventeen, sisters who were secret agents during WWII, the first known female firefighter, and several human rights activists fighting for the good of many.
Every illustration is done by a different artist highlighting the uniqueness of each individual woman. While all very different, the women are united in their strong characters showing courage, determination, and perseverance making them wonderful role models for children today. This is a book that should be in every library.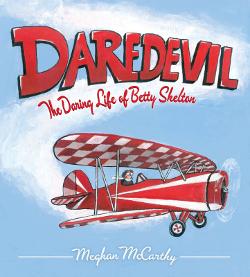 Daredevil: The Daring Life of Betty Skelton by Meghan McCarthy, 2013
(Ages 5 – 10)
The extraordinary true story of the fearless Betty Skelton is brought to life through cartoony illustrations and intriguing facts. Holding records in flying, race car driving, boat racing, and being the first woman trained with male astronauts makes Betty Skelton a woman everyone should know about!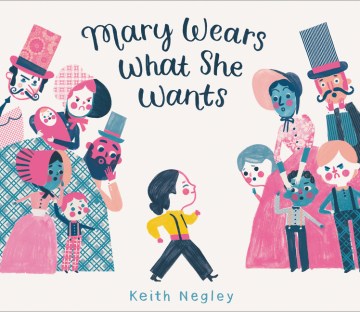 Mary Wears What She Wants by Keith Negley, 2019
(Ages 4 and up)
My daughter was shocked to learn there was a time when girls were not allowed to wear pants. Luckily this is no longer the case thanks to strong women like Mary Edwards Walker who helped challenge social norms.
Mary Wears What She Wants shares the story of a young Mary Edwards Walker who shocked society by trading in her uncomfortable dress for a pair of pants. Despite the jeers from the townspeople, she continued to wear what she liked paving the way for other girls to have a choice in their own clothing.
Between the clever artwork, the powerful messaging, and the informative Author's note, there is so much to love about this book.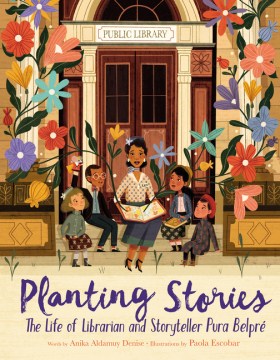 Planting Stories: The Life of Librarian and Storyteller Pura Belpré by Anika Aldamuy Denise ; illustrations by Paola Escobar, 2019
(Ages 5 and up)
Planting Stories: The Life of Librarian and Storyteller Pura Belpré shares the fascinating story Pura Belpré who enriched children's literature with her enchanting Puerto Rican folktales. She was a pioneer, creating the first mainstream Latinx storybooks in America.
Her dream of planting seeds of stories across the United States is beautifully embodied by the gorgeous illustrations adorned with flowers. The vivid pictures paired with the engaging text that effortlessly weaves in Spanish vocabulary makes this an excellent read aloud.
Pura's legacy continues with the Pura Belpré award given each year by the American Library Association for the most outstanding work of literature by a Latinx author and illustrator.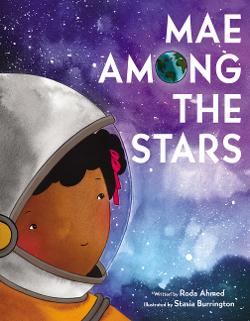 Mae Among the Stars by Roda Ahmed; illustrated by Stasia Burrington, 2018
(Ages 4 – 8)
This beautiful picture book biography uses simple text and child-friendly illustrations to show how one little girl achieved her dreams through hard work and perseverance.
Mae Jemison always wanted to be an astronaut. When she shares her dream with her teacher, however, she is deterred and encouraged to be a nurse instead. Mae is shattered by this dismissal. Luckily her supportive parents encourage her by advising, "You must always repeat to yourself: If I can dream it, if I can believe in it, and if I work hard for it; anything is possible." Mae Jemison kept these words close to her heart and worked hard to achieve her goal. She became both a doctor and the first African American woman in space.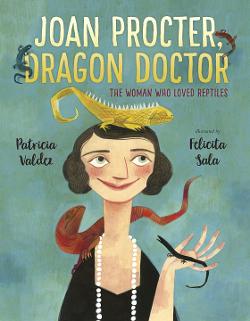 Joan Procter, Dragon Doctor: The Woman Who Loved Reptiles by Patricia Valdez; illustrated by Felicita Sala, 2018
(Ages 5 – 8)
Where many of us would squirm at the sight of a snake or lizard, Joan Procter collected and studied them. She even received a pet crocodile on her sixteenth birthday! Her love of reptiles never waned and she became the curator at the Natural History Museum and then the London Zoo at a young age. Soon she was famous for her expertise and for being the first to bring Komodo dragons to Europe.
An author's note provides additional information on her amazing life as well as the history behind Komodo dragons. Joan's interesting story is set against incredible illustrations making this a perfect choice for a STEM (Science Technology Engineering and Math) themed storytime or for any child who enjoys learning something new.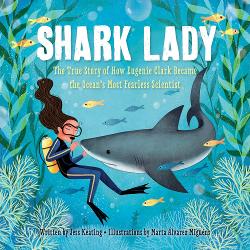 Shark Lady: The True Story of How Eugenie Clark became the Ocean's Most Fearless Scientist by Jess Keating; illustrated by Marta Alvarez Miguens, 2017
(Ages 5 – 8)
My science-oriented son loves this interesting story about a determined female scientist who overcame criticism to become one of the leading zoologists to study sharks.
Shark Lady is a fabulous picture book biography that introduces children to Eugenie Clark, who discovered new species of fish, published several books on sharks, and was the first to train sharks proving their intelligence. Engaging illustrations bring Eugenie's story to life teaching children about another important female scientist whose persistence and dedication leads to great things.
A "Shark Bite" section in the back educates readers on additional facts about sharks while a timeline shares highlights of Eugenie's impressive life.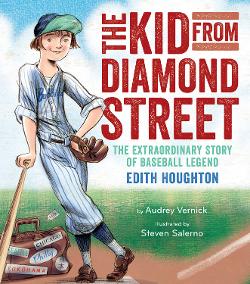 The Kid From Diamond Street The Extraordinary Story of Baseball Legend Edith Houghton by Audrey Vernick; illustrated by Steven Salerno, 2016
(Ages 5 – 10)
"Edith Houghton used to say, 'I guess I was born with a baseball in my hand,' and if you'd seen little Edith playing in the 1920's, you'd probably have believed it. She was magic on the field."
A girl playing baseball in the 1920's? A girl playing professional baseball at the age of ten? Impossible you say? Meet Edith Houghton who tried out for the Philadelphia Bobbies while she was still in elementary school and was so good that not only did she make the team, she became the starting shortstop. Known as "The Kid", Edith became a famous baseball player who traveled the world playing against both women's and men's teams.
Photographs and additional information on Edith's life including the fact that she also became the first female scout for a professional baseball team are located in the back. Children will absolutely love this entertaining and engaging tale about a remarkable woman.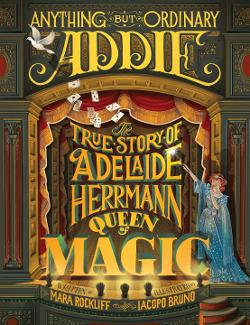 Anything but Ordinary Addie: The True Story of Adelaide Herrmann Queen of Magic by Mara Rockliff; illustrated by Iacopo Bruno, 2016
(Ages 5 – 10)
This is the amazing story of Adelaide Herrmann, one of the first female magicians. She was brave, talented, and as the title suggests, anything but ordinary. Starting out as a prima ballerina, Addie longed for more adventure. While traveling, she met Herrmann the Great, a talented magician, whom she instantly fell in love with and married. When he died suddenly, she took over the show and became one of the first female magicians continuing to wow crowds for the next thirty years.
My son was compelled by this intriguing true story. The bold illustrations brought Addie's magical world alive and the text was the perfect length for a read aloud or to share one-on-one. I personally loved reading the author's note in the back giving more insight into Addie's extraordinary life!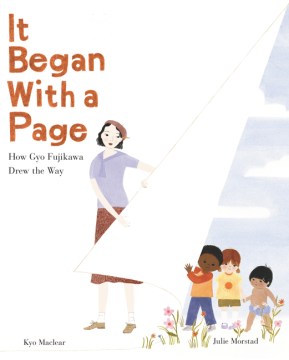 It Began With a Page: How Gyo Fujikawa Drew the Way by Kyo Maclear; illustrated by Julie Morstad, 2019
(Ages 7 and up)
It Began With a Page is the fascinating, inspirational story of Gyo Fujikawa, a trailblazer in children's literature. During a time when segregation was rampant, Gyo created picture books that featured a diverse group of babies together for the first time. Her books were wildly popular and profitable breaking the color barrier in publishing and paving the way for more multicultural stories.
Stunning illustrations pay tribute to Gyo's accomplishments and beautifully outline her life. Difficult moments are touched upon such as the years Gyo's family spent in a Japanese internment camp during WWII, making this a better choice for elementary age children and up.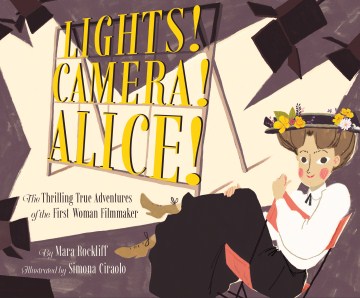 Lights! Camera! Alice! The Thrilling True Adventures of the First Woman Filmmaker by Mara Rockliff; illustrated by Simona Ciraolo, 2018
(Ages 6 -10)
As a child, Alice Guy-Blanché loved stories and when a camera that could capture moving pictures was invented, Alice knew she just had to use it to showcase stories. Alice's movies were among the first to have color and sound earning her the title "Mother of the Movies." Sadly, credit of her success was often given to her male assistants and her name almost disappeared from history until a recent discovery of her achievements.
Clever details such as using Alice's movie titles as title cards to mark important stages in her life, add to the charm of this fascinating book about a trailblazer in the film industry!
There are so many more noteworthy women I would love to add to this list. If you have any recommendations, please let me know!
*This post contains affiliate links and may include items that I received at no cost in exchange for an honest review. All thoughts and opinions of the books are my own. To read my full disclosure
CLICK HERE
.