It's the season of ghosts and goblins and we are thrilled to share our list of brand new picture books that are perfect for getting children excited for Halloween!
Not all of these 2019 releases are specifically about Halloween, but they have an element of creepiness that is perfect for reading around this spooktacular holiday! Enjoy and happy trick-or-treating!
*This post contains affiliate links. To read my full disclosure CLICK HERE.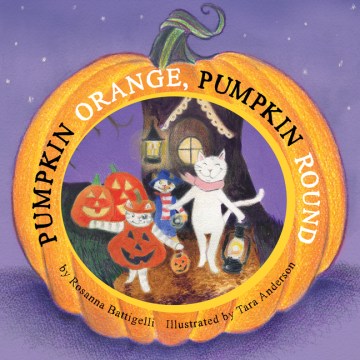 Pumpkin Orange, Pumpkin Round by Rosanna Battigelli
(Ages 2 – 4)
Bouncy rhymes follow a family of cats who visit a pumpkin patch and carve a jack-o-lantern after finding the purrrfect selection. The repetitive rhymes make this a fun read aloud choice for a storytime with toddlers.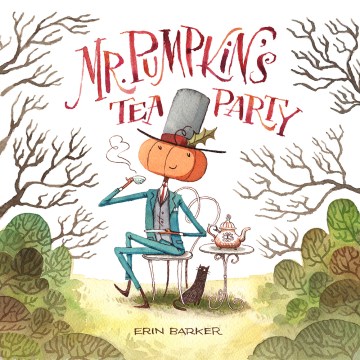 Mr. Pumpkin's Tea Party by Erin Barker
(Ages 2 – 6)
This delightful counting book stars a myriad of traditionally creepy characters who participate in a whimsical tea party. Upbeat rhymes encourage children to find and count the delicacies each guest brings. The soft color palette and cartoony illustrations draw readers into this not-too-scary Halloween tale.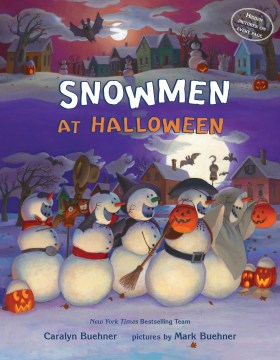 Snowmen At Halloween by Caralyn Buehner; illustrated by Mark Buehner
(Ages 3 – 6)
The latest installment of this popular series is just as endearing and charming as you would expect. When snow falls early one autumn, two children dress up their snowmen in Halloween costumes and imagine the fun adventures they could have at night. The illustrations hold a number of entertaining details and the upbeat rhymes make this a perfect read aloud for a group of young children as well as one-on-one.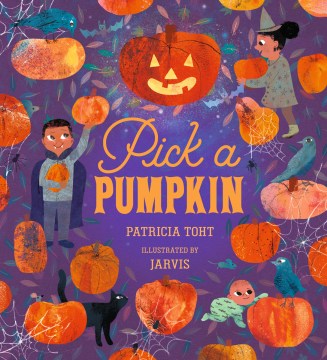 Pick a Pumpkin by Patricia Toht; illustrated by Jarvis
(Ages 3 – 6)
This beautifully illustrated treasure follows a family as they pick a pumpkin at a farm and transform it into a jack-o-lantern. The simple, rhythmic text does a wonderful job of capturing the fun of the fall season and the magic of childhood during this time of year.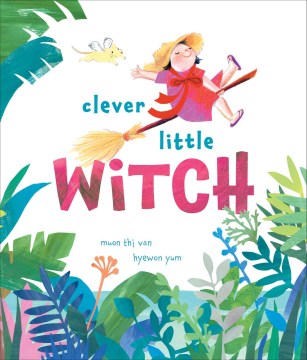 Clever Little Witch by Muon Van
(Ages 4 – 8)
This imaginative tale of sibling rivalry features a bright little witch and her troublesome brother who enjoys chewing on her spell book and broomstick. When she attempts to turn him into a goldfish, comical hijinks ensue and she discovers that having a brother isn't all bad. The tropical setting and lively illustrations make for one bewitching tale that is sure to be a hit with many children.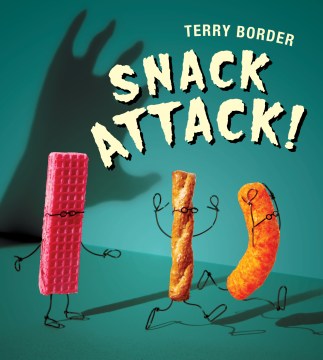 Snack Attack! by Terry Border
(Ages 4 – 8)
This hilarious book had our entire family laughing out loud. When a cheese doodle, pretzel stick, and a cookie escape from their packages, they fear the monsters known as kids will gobble them up. At first, they enjoy their freedom, but after finding a note from "Mom" instructing a child to enjoy the snacks she left out, they hatch a plan to escape.
Terry Border's illustrations featuring photographs of real food brought to life with bent wire resembling glasses and limbs could not be more humorous and engaging. From cover to cover, we love everything about this amusing book!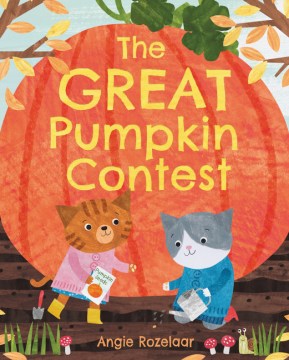 The Great Pumpkin Contest by Angela Rozelaar
(Ages 4 – 8)
This story about competition and collaboration could not be sweeter. When two cats who are neighbors both enter a pumpkin growing contest, they find that a blossoming friendship could be a better prize than a first-place ribbon. The illustrations and storyline are adorable making this a charming choice for the autumn season.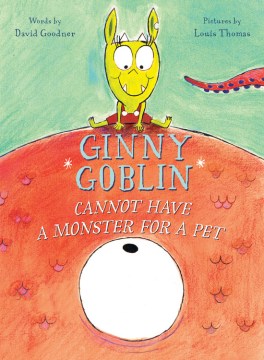 Ginny Goblin Cannot Have a Monster for a Pet by David Goodner
(Ages 4 – 8)
An unseen narrator encourages readers to help a spunky little goblin find the perfect pet. Ginny Goblin loves goats, but when she is told they are too messy, she turns to a kraken and a basilisk as potential companions. This is a comical tale featuring popular monsters making this an excellent choice to read any time of year, but especially around Halloween.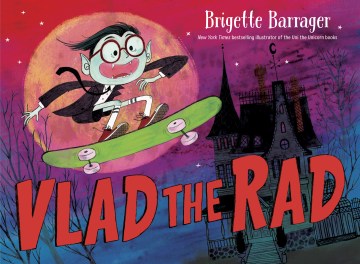 Vlad the Rad by BrigetteBarrager
(Ages 4 – 8)
Vlad is a vampire who loves to skateboard. Unfortunately, this interferes with his ability to concentrate at monster school. When he is able to combine his passion for skateboarding and ability to scare humans, his classmates and teacher rejoice and give him the nickname of Vlad the Rad. My children loved pouring through the ghoulish details in the illustrations and I enjoyed giving a silly voice to Vlad's teacher. This is more fun than spooky and was requested often by my children.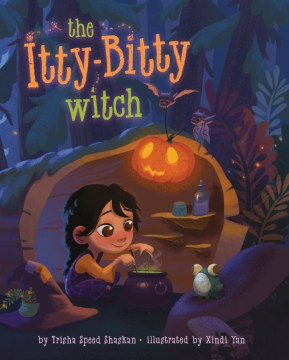 The Itty-Bitty Witch by Trisha Speed Shaskan; illustrated by Xindi Yan
(Ages 4 – 8)
Betty Ann Batsworth is excited for her first day as a first-grade witch until she encounters a group of unkind children who make fun of her small size. Their words make her feel "itty bitty" on the inside, but she rises above her hurt feelings and finds a way to use her size as an advantage during the annual Halloween race.
Engaging cartoonlike illustrations bring the story to life while messages of anti-bullying, self-confidence, and perseverance create many talking points for this fun Halloween-themed story.
My own itty bitty daughter enjoyed this one so much that she decided to be a witch for Halloween after reading this book!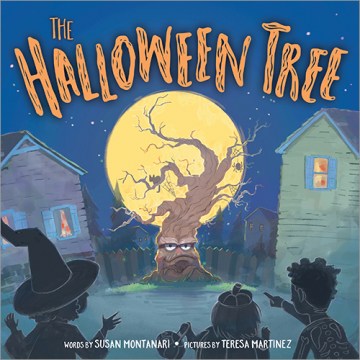 The Halloween Tree by Susan Montanari; illustrated by Teresa Martinez
(Ages 4 – 8)
A grumpy young pine tree on a Christmas tree farm grows gnarled and twisted in an effort not to be uprooted. Over time, the farm is bought by a housing development and the tree finds itself in a family's backyard. Attracted by its spookiness, the neighborhood kids play in the tree pretending it is a pirate ship, a hideout, a spaceship, and a dragon. Come Halloween they declare it the "trick or tree".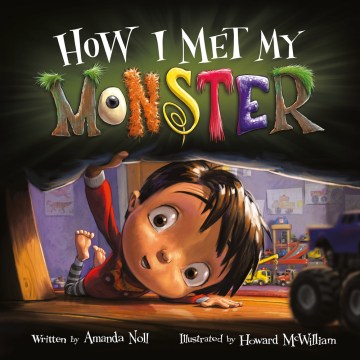 How I Met My Monster by Amanda Noll
(Ages 5 – 8)
When Ethan reaches under his bed for a toy, he discovers a group of monsters hiding there. They each audition for the chance to scare Ethan into staying in his bed all night long. While most of the monsters' attempts to frighten the child are more silly than scary, one monster's red eyes and oozing green drool is able to send the boy scampering back into bed. This is an entertaining prequel to I Need My Monster (2009).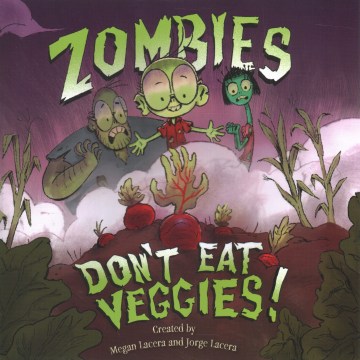 Zombies Don't Eat Veggies by Megan Lacera and Jorge Lacera
(Ages 5 – 8)
This delectable spin on a picky eater story stars a family of zombies. Mo's parents insist he eat zombie cuisine such as arm-panadas, but all Mo wants is veggies. Filled with funny puns and an engaging storyline with just a little bit of gore, this is sure to be a popular selection for many children. My own kids loved it and asked for it multiple times. As an added bonus, there are Spanish words mixed into the text and recipes included.