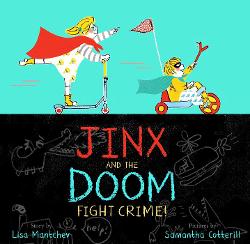 Jinx and the Doom Fight Crime by Lisa Mantchev; illustrated by Samantha Cotterill, 2018
(Ages 3 – 6)
Jinx and her little brother, the Doom used to fight each other. "But then they realized they could use their powers for good and not evil." So now they sport their capes and masks and defend the innocent. They find that it is much more fun to be a team than adversaries.
This adorable book uses simple text and engaging illustrations to bring Jinx and her brother's vivid imaginations to life. Shadows are transformed into monsters while mundane chores such as washing the dog morph into exciting missions. I especially love the incredible 3D illustrations that make this book look so unique. I just couldn't get enough of the color palette, patterns, and exuberance present in each page. The perfect amount of humor is also thrown in to make this a terrific read aloud.
Many books on sibling rivalry focus on a conflict between siblings, but I like how this one is a nice reminder of just how much fun brothers and sisters can have when they work together. Both my almost three-year-old daughter and five-year-old son adore this book and love acting out their crime fighting scenarios together.