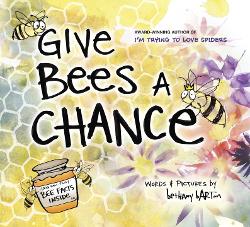 Give Bees a Chance by Bethany Barton, 2017
(Ages 4 – 10)
Bethany Barton has discovered the perfect mix of information, humor, and clever illustrations to bring nonfiction books alive to children. Give Bees a Chance skillfully presents interesting facts about bees with a comical dialogue between an unseen narrator and his friend, Edgar, who is terrified of bees. The narrator deflects Edgar's arguments against bees with fascinating tidbits about a bee's anatomy, history, ability to make honey, and impact on the environment. The amusing illustrations accentuate the data on bees and add to the drollness of the story.
Like Edgar, my five-year-old son is afraid of bees. After reading this book, however, he has a new appreciation for them and even suggested we plant some bee-friendly flowers to help the bee population. He added that he would like to plant them at his grandparents' house in Florida, thousands of miles away, but at least it is a start! He requested that we read this book multiple times and loved soaking up new facts about bees. He also loved the interactive element of gently blowing the bees away from Edgar.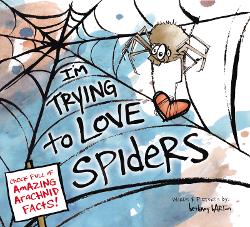 I'm Trying to Love Spiders (2015) was also a favorite of our family and at the elementary school where I used to teach. The engaging illustrations, amusing humor, and interactive directions make these books wonderful read alouds. They are perfect for kicking off a nonfiction unit in the classroom or reading one-on-one with a child.