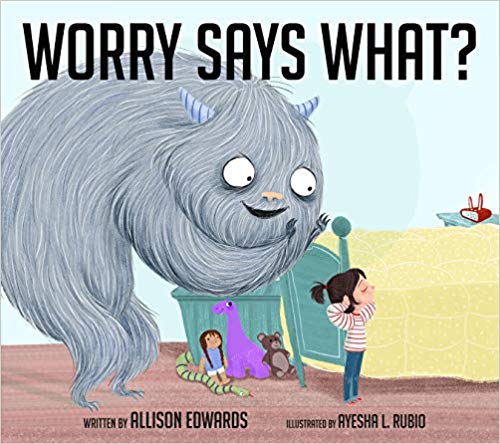 Worry Says What? by Allison Edwards ; illustrated by Ayesha L. Rubio , 2018
I strongly believe that books can help children work through difficult emotions, so I was thrilled when the National Center for Youth Issues asked me to partner with them.
I am loving one of their newest books, Worry Says What? In this story, the feeling of worry is personified as a monster who plagues a young girl. He whispers in her ear instilling fear that she won't be able to make friends, play sports, or do well in school. She finally stands up to her Worry Monster and realizes that even though she can't banish him completely, as long as she works hard, tries her best, and believes in herself she will accomplish great things.
When I was working as an elementary school librarian, I was shocked by the large number of children who exhibited anxiety at such a young age. I would have loved to have WORRY SAYS WHAT? to share with our counselor, teachers, students, and parents.
The book does an excellent job of making the complex emotion of worry more concrete and manageable for children. The girl's strength is inspirational and will empower children to try to overcome their own Worry Monsters. In addition, useful tips are included in the back for adults to help children conquer their anxiety and fear.
I encourage you to check out the National Center for Youth Issues' website at https://ncyi.org. It has lots of incredible resources to help counselors, teachers, and parents foster healthy social, emotional, and physical development in children.
Thank you to the National Center for Youth Issues for sharing this book with me. All thoughts and opinions are my own.