My four-year-old son and I read a lot of books in May, but the below stories are the ones that really stood out and he asked for repeated readings. We hope you enjoy them!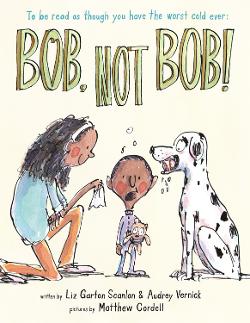 Bob Not Bob! by Liz Garton Scanlon and Audrey Vernick; illustrated by Matthew Cordell, 2017
(Ages 4 – 8)
Poor Little Louie has got a cold. He doesn't want to color, or watch T.V., or shoot baskets with his wadded-up tissues; all he wants is his mom. Unfortunately, his nose is so clogged that when he calls for her, it sounds more like "Bob", which is the name of his big, slobbery dog who comes running every time he yells "Bob!" This miscommunication along with the comical illustrations makes for a very funny read aloud. Eventually, Louie gets his wish and cuddles up with his Mom and Bob for some much needed rest. This sweet story will resonate with both children and parents who all know that a little TLC is the best medicine. The "Bobs" in the text are distinguished by the "o" changing to a heart every time Louie is referencing his mom. This is a cute detail that adds even more charm to the story. There is lots of white space to accentuate the funny illustrations and text.
My husband actually read this story the best as he perfectly acted out a nasally tone that made my son giggle during every reading. He laughed out loud each time Louie called for "Bob" meaning his mother and the big, slobbery dog rushed into the picture. This is a perfect story to cuddle up with a child or read out loud to a group.  
Audrey Vernick is quickly becoming one of my favorite authors. Check out some of her other incredible books: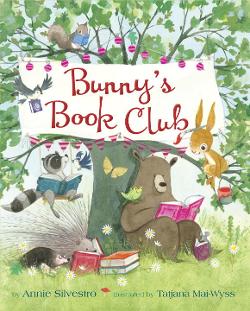 Bunny's Book Club by Annie Silvestro; illustrated by Tatjana Mai-Wyss, 2017
(Ages 4 – 8)
My son and I loved this charming story of a group of animals who enjoy reading. Reminiscent of old fashioned wallpaper, the end papers set the tone for the quaint feel of this book. There is even an adorable illustration of a check out card with all of the animals' names on it. The story begins with a little bunny who loves to listen to the storytimes held outside the public library on warm summer days. When the air turns cool and storytime is moved inside, Bunny is driven to drastic measures. "With a flashlight in his paws and hope in his heart, Bunny jumped out of bed and tiptoed through the dark." He breaks into the library through the book return and discovers a sea of books. He soon shares his secret with his friends and in a comical scene, they all squeeze through the book return even though Bear causes a delay with his large derriere. In a dramatic lead up, they are caught by the librarian, but instead of being angry she provides them with their own library cards.  
Even though this is a quiet story, the author and illustrator do a wonderful job of making many of the scenes exciting. In addition to reading this book with my four-year-old son, I also read it with my first and second graders at my school. It was a great end of the year read to get them excited about summer reading and remind them to use their public library over the summer. They enjoyed the book as much as my son and a few observant children even relished in the book choices the animals made. For example, a few thought it was funny that the raccoon chose a story about bandits and the frog picked a fairytale. There is something in this story for many different age groups making this one of my favorite books of 2017 so far.
There's a Lion in My Cornflakes by Michelle Robinson; illustrated by Jim Field, 2015
(Ages 4 – 8)
Remember when you could cut out coupons from cereal boxes and mail them in for a prize like a decoder ring? In this story, you can send away for a free lion. A boy and his brother eat nothing but cornflakes until they save up enough coupons for the free lion. Unfortunately, the cereal company has run out of lions and send an array of other ridiculous pets instead including a bear, a crocodile, and a gorilla. The bold illustrations with lots of amusing details add to the comedy making this a perfect book to read over and over again. My son absolutely loved this silly tale and we read it no less than seventeen times.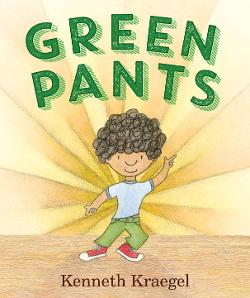 Green Pants by Kenneth Kraegel, 2017
(Ages 4 – 8)
"Jameson only ever wore green pants. When he wore green pants, he could do anything." Jameson felt invincible in his green pants and when others tried to make him wear pants of another color, the pants always seemed to find a way of disappearing. When he is asked to be in his cousin's wedding, Jameson is thrilled until he realizes he will have to wear black pants. Jameson's patient mother empowers him to make his own choice of wearing the black pants and being in the wedding or staying true to his beloved green pants. Jameson bravely puts on the black pants for the wedding and then in a hilarious scene, rips them off at the reception to reveal his green pants underneath and dances "like no one has ever danced before."
Jameson is a great character and the illustrations perfectly capture his anguish when trying to make his big decision. This is an endearing story that many children can relate to. My kids are very particular about picking out their own clothes, so my son associated with Jameson right away. My son and I really enjoyed reading about Jameson and his family and we hope this is the start to a new series.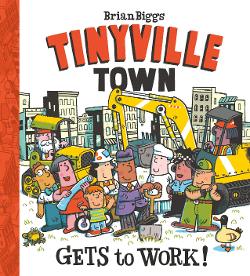 Tinyville Town Gets to Work! By Brian Biggs, 2016
(Ages 3 – 6)
I first stumbled upon this book after reading the Tinyville Town board books to my two-year-old. When I put this one on hold at my library, I was surprised to see that it was a picture book instead of board book and better suited for children ages three to six. On the first page, the author, Brian Biggs, addresses a letter to the reader explaining that he was inspired by his local community and wanted to create a series of books that highlight different occupations and how people can work together to make a change. Using cartoonish illustrations, Biggs has created an adorable and diverse community of people who are kind and helpful to each other.  
In this installment, the mayor discovers a problem with the bridge and meets with many people to build a new one. This book introduces children to a variety of occupations some of which may be new to them such as a city planner and an engineer. The book is a terrific example of collaboration and culminates with a town-wide parade celebrating the new bridge. This new series of board books and picture books are accessible, enjoyable, and provide a shining example of teamwork and what a positive community can look like.
My two-year-old daughter loves the board books.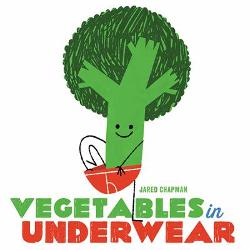 Vegetables in Underwear by Jared Chapman, 2015
(Ages 2 – 5)
For some reason underwear is hilarious to kids and the idea of vegetables in underwear is especially funny. The story centers on a little floret of broccoli who leads the reader on a tour celebrating underwear. Using brightly colored illustrations surrounded by white space, an assortment of vegetables reinforce important concepts for toddlers such as opposites and days of the week while wearing comical undergarments. This was a quick read for my four-year-old and due to its simplicity and expressive characters, it would be wonderful to also read to two and three-year-olds.