BOOKS ABOUT AIRPLANES
Going on a plane can be exciting, but sometimes scary for children. Picture books are a great way to prepare kids for their first flight and/or occupy them while traveling. Here are a few of our favorite books that celebrate airplanes and are great for reading while waiting at the airport.
*This post contains affiliate links. To read my full disclosure CLICK HERE.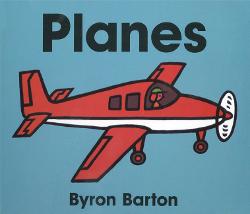 Planes by Byron Barton, 1986
(Ages 0 – 3)
My children absolutely loved this series of board books. Using bold illustrations and simple text, Barton introduces a variety of transportation vehicles. In this installment, airplanes from commuter jets to crop dusters to sea planes are highlighted. The illustrations use bright colors and even though they are deceptively simple, babies and toddlers are usually completely engaged when reading them. This series of board books has withstood the test of time and is just as popular today as when it came out almost thirty years ago.
Here are a few of our other favorite books in this series.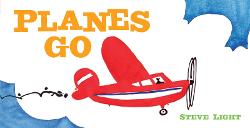 Planes Go by Steve Light, 2014
(0 – 3)
This book perfectly combines engaging illustrations with transportation inspired onomatopoeia to make for a fun read aloud. Each two-page spread presents a new type of airplane with the corresponding sounds it makes. For example, "The seaplane goes GGRRRRRRR Putt Putt Putt SSSPLAAAASHH!" Kids love silly sounds and merging them with vehicles makes for a great read!
Check out the other terrific books in this series: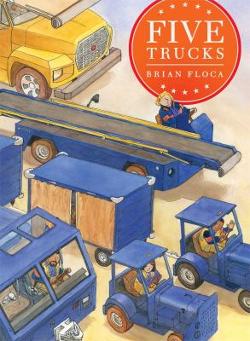 Five Trucks by Brian Floca, 2014
(Ages 2 – 5)
The airport is an active place and most children are fascinated when looking out the window of the airport to see busy trucks zipping by to service the planes. Using beautifully detailed illustrations, Caldecott Award-winning illustrator, Brian Floca, celebrates five of those hard-working trucks. There are only a few words to a page making this a perfect book for young vehicle enthusiasts as they get ready for a plane ride. This would be a fun book to read before a big trip and then try to find the trucks while at the airport.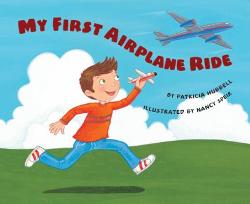 My First Airplane Ride by Patricia Hubbell; illustrated by Nancy Speir, 2008
(Ages 2 – 6)
Using engaging rhymes and bright illustrations, this book concisely explains the process of air travel making it accessible for young children. The story follows a little boy on his way to see his grandmother. It introduces several steps of the traveling procedure such as packing, printing boarding passes, going through security, waiting on the tarmac, snacking on the plane, and finally landing. The boy is seen smiling through each step giving children a feeling of reassurance. With only one sentence per page, this book is perfect for a travel themed storytime or read one-on-one to help prepare a child for his/her first flight.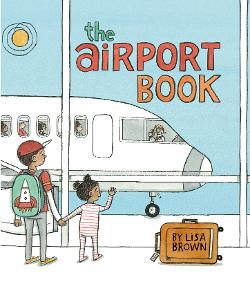 The Airport Book by Lisa Brown, 2016
(Ages 4 -8)
I love this book on so many levels. Not only is it the perfect book to travel with because the setting is an airport, but additionally there are two parallel stories that can be read together or one at a time depending on how long you want to look through the book. One storyline is told using speech bubbles from a mixed-race family as they pack, travel through the airport, relax on the plane, and then arrive at their destination. The second storyline is told through an omniscient narrator who simply describes the process of traveling via airplane.
This gives you the opportunity to read the book quickly or slowly depending on the situation. If it is bedtime and you are ready for your little one to hit the hay, you can simply read the main text. On the other hand, if you have a lot of time to kill, if you are waiting at the airport for example or just want to spend some extra cuddly time with your little one, you can read each individual speech bubble and pour through the detailed illustrations.
The detailed illustrations are a joy to look through. The airport is filled with many passengers that occur in multiple scenes allowing observant readers to follow their journey as well. This is one of those magical stories that you can read again and again and always notice something new. It is perfect for preparing a child for their first flight or just to share as a fun story.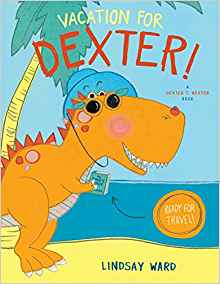 Vacation for Dexter! (Dexter T. Rexter series) by Lindsay Ward, 2019
(Ages 3 – 6)
The charming stuffed animal dinosaur, Dexter T. Rexter, is ready for a fun filled vacation with his family. The only problem is that they have to fly to reach their destination. Dexter is able to curb his fear, however, when he notices his best friend, Jack, is also feeling a little nervous. He puts on a brave face and together they find the joys of air travel.
ABC: The Alphabet From the Sky by Benedikt Gross, 2016
(Ages 4 – 10)
Children love looking out a plane's window to see the tiny images below them. This great concept book has integrated the alphabet into this fun activity. Children can now explore aerial photographs to identify different letters hidden in rivers, roads, and landforms.
Each incredible two-page spread includes the location and the map coordinates. There is also a glossary of infographics and a supplemental page that challenges the reader to find even more letters. This is a fun book that may inspire your child's own scavenger hunt when looking out a plane's window.
BOOKS TO ENGAGE CHILDREN WHILE WAITING
While traveling, it can also be helpful to bring some books that can either be read quickly or poured over for a long period of time. Here are some great pictures books to engage children while waiting at the airport or riding on the plane.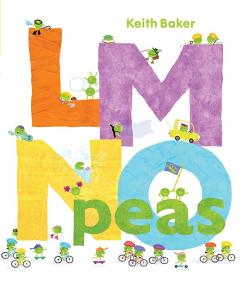 The Little Green Peas series by Keith Baker
(Ages 2 to 6)
A group of anthropomorphic peas introduces the concepts of letters, numbers, colors, and months using beautiful artwork that children can look at for hours. With so many individual peas doing a variety of activities on each page, the books lend themselves nicely to multiple readings since there is always something new to discover. As an added bonus, a ladybug is hidden on every page creating a fun look-and-find game for children.
Books in this series currently include the following: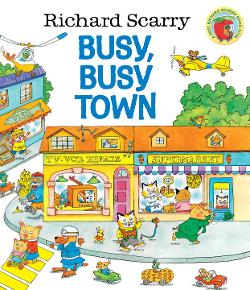 Richard Scarry's Busy Busy Town by Richard Scarry, 1994
(Ages 3 – 8)
Busy Town is the perfect name for this fictionalized town that is bustling with animals at work. With lots of detailed illustrations, Richard Scarry introduces a variety of occupations to young children. Each page is filled with the animals performing different activities that will keep children engaged for a long period of time making this is a terrible bedtime book, but perfect for a long plane ride!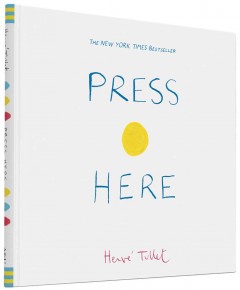 Press Here by Herve Tullet , 2011
(Ages 3 -8)
This is an interactive book that engages the reader to use their imagination to make something exciting happen on each page. The book is not only fun to interact with, but it also teaches kids important skills without them realizing it. Just by playing they review colors, cause and effect, directionality, etc. Every time I put it out in my school library, children gravitate towards it. It looks like it is intended for younger children, but even my third graders love to read it.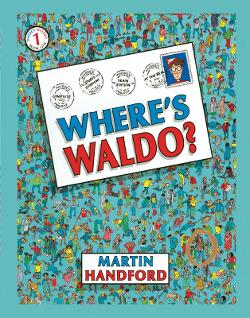 Where's Waldo by Martin Hanford, 1987
(Ages 4 and up)
Sporting his red and white striped shirt and hat, Waldo is hidden on every page waiting for children to find him. Children absolutely love these look-and-find books. Despite being almost thirty years old, they remain popular today and are constantly checked out from my school library. They are perfect for bringing on an airplane because they are another book that can be looked at for hours. There are several books in this series each with their own theme.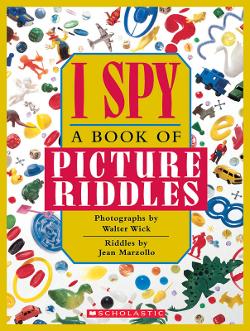 I Spy: A Book of Picture Riddles by Jean Marzollo
Using rhyming verses, children are challenged to find hidden objects in busy photographs. Each book in the series has a different theme that is fun and engaging.
Children love to learn new things, so why not give them a book on where you are traveling to? Libraries usually have several offerings of books focusing on different states and countries. Our school library uses the following books that have been popular.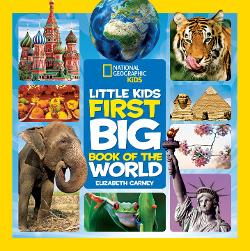 Little Kids First Big Book of the World (National Geographic Kids series) by Elizabeth Carney, 2015
(Ages 5 – 12)
This nonfiction offering includes beautiful photographs from National Geographic to introduce the continents highlighting the land, weather, people, animals, and scenic sights. Descriptions are brief, but serve as a great overview to the continents.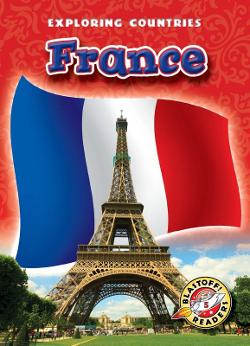 Blastoff Readers Exploring Countries series by Capstone Publishing
(Ages 7 – 10)
These books are part of Capstone's easy reader series for fluent readers. They contain great photographs and present information in a clear and easy way for children. There are currently 41 countries highlighted in this series.
Good luck flying!